Don't be left behind this time round.
You must have heard of the 52 weeks saving challenge. And while it requires discipline, saving is a thing we should all do regardless of your earnings. If you have not included saving as one of your 2019's resolutions, you had better.
What would you do with Ksh 68, 900 at the end of this year? What if you had twice the amount such that you have Ksh 137, 800 in your savings account by the end of December? Well, a year has 52 weeks and you should thus make sure you save every week.
The most popular saving challenge is the 100 bob saving plan where you begin with a 100 shillings on the first week, and the saving amount increases every week with the same amount. If you choose the 100 bob option, you will end up with 137, 800 shillings by the end of the challenge-which is quite a good amount.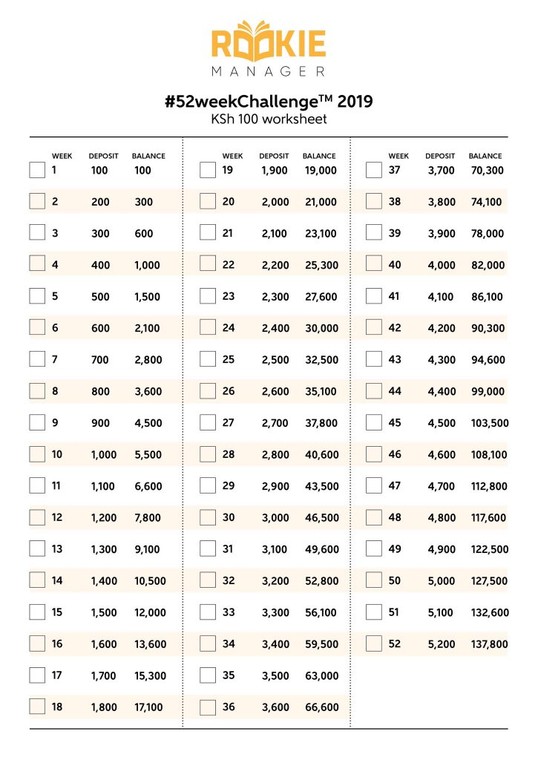 But then, we all earn differently. While not all can manage the above option, it should be no excuse for not saving. There is also the Kes 50 where the amount you save increases by 50 bob every week. And by the end of the challenge, you will have a total of 68, 900 which is still good enough and can help you invest in a good business. Check out the 50 bob saving plan below: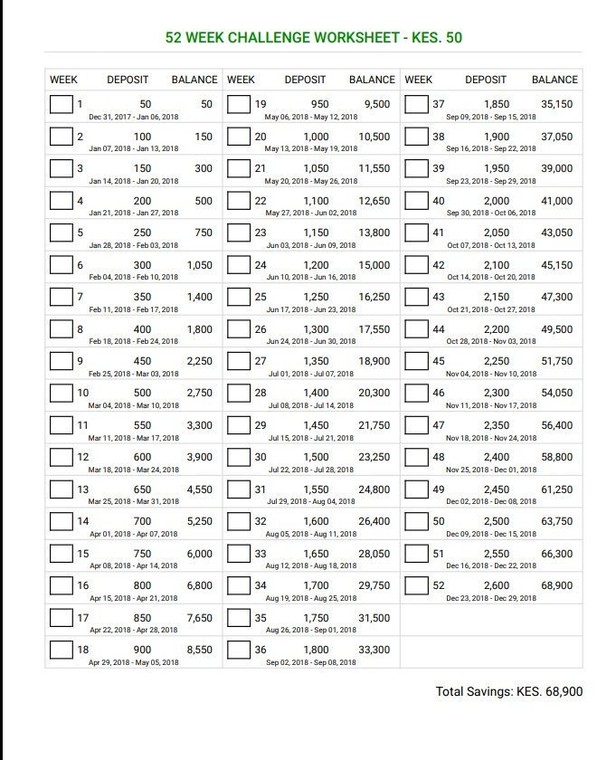 Still, you can choose to start from week 52 so that you will feel encouraged knowing you save less each week.
Article Source: https://www.pulselive.co.ke/news/local/52-weeks-saving-challenge-100-ksh-saving-plan-50-ksh-saving-plan/8fgbvpn