If we asked you to list the benefits of solar energy, what would they be? Access to reliable light sources? The ability to run technology and household appliances? The generation of clean, renewable energy? Well, you'd be right. But solar energy is driving a lot more than those benefits.
As the world works to take the action needed to meet the UN's 17 Sustainable Development Goals (SDGs) by 2030, off-grid solar energy access for developing countries is an essential part of the solution. And not just for achieving SDG 7 (Clean and Affordable Energy For All), but 10 of the SDGs in total, including Decent Work and Economic Growth (SDG 8), No Poverty (SDG 1) and Gender Equality (SDG 5), just to name a few – making off-grid solar a very powerful tool for change.
The economic issue
SDG 8 – Decenet Work and Economic Growth – calls on the world to 'promote sustained, inclusive and sustainable economic growth, full and productive employment and decent work for all'. Not an easy task, and one where developing countries, such as those in sub-Saharan Africa, are unfortunately lagging behind the rest of the world. In sub-Saharan Africa, economic growth is below population growth, and it's estimated that by 2030, 100 million young people will be unemployed if current trends continue. These effects will undoubtedly be felt most in rural communities, where 60 million people still live without access to electricity.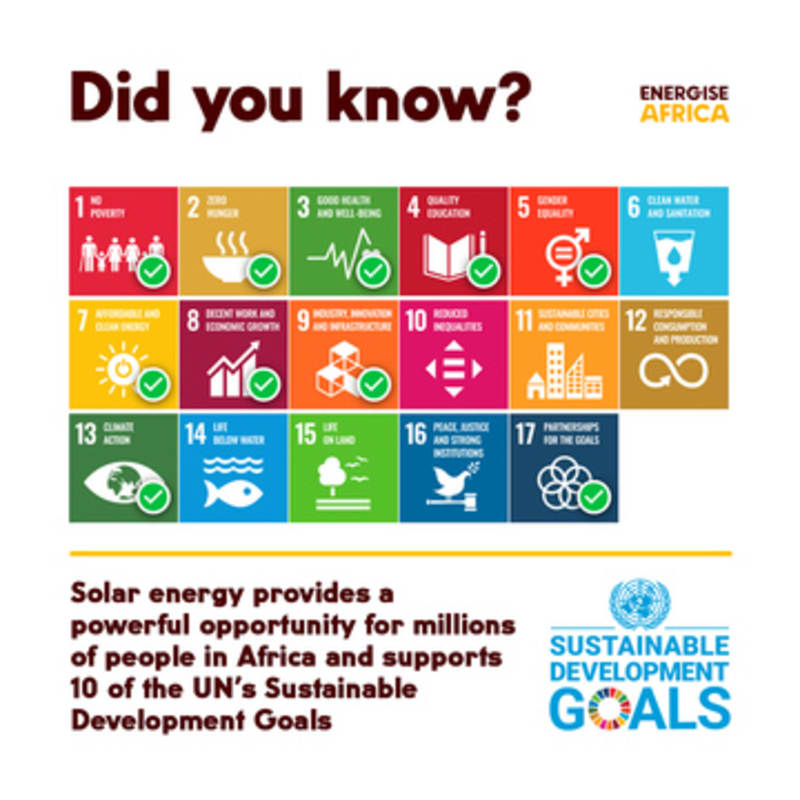 Image from Energise Africa
A powerhouse for jobs
Power4All recently highlighted that the off-grid solar sector has become a notable employer in emerging economies with high unemployment. Despite its relative youth, it already employs around the same numbers as the utility power sector and it projects that by 2022–2023, the direct, formal, workforce could grow by 70 per cent in Kenya alone, reaching 17,000 jobs in the country.
Powering business growth
Special Ice is an award-winning carbonated drinks company in Ghana. In their daily operations, they use a substantial about of power and their energy supply was a major cost to the business. In order to compete in the market, they needed to bring their operational costs down, but they also needed a reliable energy supply. Special Ice worked with REDAVIA solar to switch to solar power for the business and have seen a substantial cost saving, allowing the business to thrive, bringing jobs and prosperity to the region.
Image from Energise Africa
Grassroots development
The economic benefits of solar don't end with the direct, formal jobs it creates – new research from the Global Off Grid Lighting Association (GOGLA) shows that people living in rural areas are increasing their opportunities for rural entrepreneurship through access to solar energy finding that:
34 per cent of households report being more economically active, with 28 per cent making an additional $46 per month on average
In more than one-third of households, customers report undertaking more work and enterprise due to their solar home system
21 per cent of households with solar home systems report using the system in a business
A further 21 per cent say household members are able to work more thanks to their solar home system
Empowering women
While we know that solar energy is helping drive SDG7 (Energy Access), SDG13 (Climate Action) and SDG 8 (Economic Growth), you might be surprised to learn that it is also helping achieve SDG 5 (Gender Equality), by providing more women in rural areas of Africa with opportunities to build profitable businesses.
Access to solar energy means girls in rural areas are able to study for longer, both at school and at home, opening their future opportunities and helping bridge the gender gap in education. For many women, solar power means they can build on their business ideas and turn them into profitable enterprises. Patience runs a small, local store in rural Uganda that provides her with income to look after her young family. Since getting solar energy, she has installed fridges, meaning she can sell cold drinks and refrigerated food to her customers, without the worry of high bills or power cuts. Since getting solar, Patience's shop's popularity has greatly increased and her customer numbers multiplied.
Image from Energise Africa
The power of the sun
All the evidence shows that solar energy access is an amazing opportunity for Africa. Energise Africa is an online impact investing platform, supported by Virgin Unite, UK Aid and Good Energies Foundation, that enables people in the UK to invest from as little as £50 in a range of pioneering businesses – supplying life-changing solar systems to homes and businesses in sub-Saharan Africa, and providing jobs for rural communities whilst targeting financial returns of around 6 per cent.
Image from Energise Africa
As with any investment, there is a risk attached of capital loss, returns are not guaranteed and you could potentially lose all or some of your investment. Previous repayments are not an indicator of future returns. To date, a community of over 2,000 investors have provided the critical investment needed to put 'pay-as-you-go' solar within the financial reach of thousands of people – enabling them to set up 3,300 businesses and provide significantly more employment opportunities.
Indirectly investors have also provided over £10 million in low-cost working capital for 12 pioneering solar businesses to expand their operations in sub-Saharan Africa, providing countless local jobs through direct employment or via local distributors. To find out how you can get involved in supporting this low carbon, climate-friendly economic development visit www.energiseafrica.com.
– This is a guest blog and may not represent the views of Virgin.com. Please see virgin.com/terms for more details. 
Article Source: https://www.virgin.com/virgin-unite/how-solar-energy-africa-powering-more-just-lights